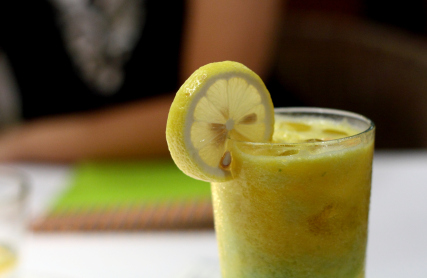 21-DAY PURIFICATION PROGRAM  (OR "CLEANSE" OR "DETOX")
 Help your body purify itself and rebuild itself from the inside out!
Yes, you CAN embark on a purification program as part of your intuitive eating journey!
WHY DO I NEED TO DO A PURIFICATION PROGRAM?
We live in a toxic world, and are exposed to many toxins on a daily basis: environmental, drinking water, food (pesticides, additives, dyes, chemicals), household cleaners, personal care products, and the list goes on.
In addition, everyday physiological processes such as energy production, digestion and hormone synthesis create waste products that, if not discarded, interfere with the function of our internal organs.
Our bodies have systems to get rid of toxins (aka "detox"), however, often these systems get over-burdened.  When this happens, many different symptoms can present themselves, including the following:
Gastrointestinal issues
Acid reflux
Difficulty sleeping/fatigue
Constipation, bloating, gas
Food cravings/sugar addiction
Food allergies
Difficulty losing weight
Skin conditions (acne, eczema, psoriasis, etc)
Dark circles or puffiness under the eyes
Low libido
High cholesterol
Recurring headaches
Fibromyalgia
Joint pain
Low immunity, frequent illnesses
Hypoglycemia
PMS, hormone imbalances
Brain fog/Difficulty concentrating
Inflammation
An effective detoxification program has been shown to be an efficacious way to rid the inundation of "garbage" that can affect adequate function of our organ systems, including the liver, kidney, colon, lungs, and lymph.   Even the most 'normal' and 'healthiest' of people can benefit from a good cleanse at least once a year.
Think of it as a Spring cleaning for your insides!
It's a great way to re-boot and reset your system and your metabolism, as well as to establish new routines.
After a 21-day purification program, most people report the following benefits:
Increased energy/vitality
Improved digestion
Less bloating
Clearer skin
More restful and replenishing sleep
Weight loss
Clearer thinking/increased ability to concentrate
Disappearance or lessening of past conditions and symptoms (PMS, joint problems, headaches, etc.)
More acute sense of hunger/fullness
Reduced cravings for sugar/alcohol/caffeine
Increased stress tolerance
Many people find through this experience they become more intuitive about the nutrients their body craves and find themselves naturally eating in ways that nourish themselves!
HOW IS DIFFERENT FROM OTHER DETOXES/CLEANSES?
It is FOOD-based—you get to eat!! You will always eat when you are hungry.
Unlike many cleanses, it facilitates BOTH phases of detoxification (learn more about that here)
Streamlined and easy-to-follow
Can double as an Elimination Diet to help identify food sensitivities/allergies
Detoxifies EVERY organ in your body
Facilitates more mindful food choices and can help you connect to your bodies unique nutritional needs
Establishes new routines in healthy behaviors and self-care. This is one of the best take-aways for participants. When you are in a structured plan that forces you to find ways to cook vegetables and eat super clean foods, you create new habits.
 WHAT DOES THE PROGRAM ENTAIL?
Days 1-10 you will eat as many fruits and vegetables as you'd like, have delicious protein smoothies 3x a day and small amounts of wild/brown rice/quinoa and lentils as well as yummy fats like avocado, seeds, coconut oil and olive oil.
On day 11 you will add in clean meat and fish.
You will take whole-foods supplements from Standard Process that support all of the organs of elimation with detoxifying herbs, vitamins, minerals and nutrients found in whole foods.
WHAT PEOPLE ARE SAYING ABOUT THE PROGRAM:
 "After two years of struggling through traditional medical treatments for inflammation-related challenges including joint pain, psoriasis and eczema, I consulted with Meredith Milton to explore a more natural, nutrition-based approach. Meredith recommended the Standard Process Purification Program. She provided insightful and supportive guidance, helping tailor the program to my needs and lifestyle. The result was a significant reduction in symptoms, greater energy and increased vitality.  In particular, the joint pain and facial eczema went away and the psoriasis improved. An added benefit was that my husband also became more interested in nutritional healing and began changing his food choices to healthier alternatives. Thank you, Meredith, for leading us to lasting solutions that have all kinds of long term health benefits!" -Laurel M, Overland Park
"Working with Meredith and completing her Purification Program enabled me to lose about 8 pounds, increase my fat burn (losing fat, not muscle) and improve my performance levels at the gym.  I'm no longer constantly craving something even when I'm full, no more headaches or crankiness-and I have higher energy levels throughout the day.  I have gotten better at cooking and figuring out what mix of what would keep me happy as a meal.  More importantly, working with Meredith has helped me change my relationship to food.  Avoiding junk food stopped being a denial–the feeling reversed:  "I want that but I can't have it" turned into "I could have that, but I don't really want to give up feeling this good." I am prone to cravings or yo-yo dieting so this is a pretty big freaking deal. It's a fundamental shift in my daily habits away from damaging and towards long-term health.  I can see and feel the difference it's made on my body and has tied action to consequence on an emotional level.  I now have an actual, physical, gut-level understanding of "healthy choices = healthy body." That's a rational "well duh" but an emotional "eureka!" for me. It colors every meal and snack choice I make now. I save room for a cookie and such, sure…but it's much easier to balance the good with the indulgences, now. Meredith is my go-to nutrition expert. I recommend her to all of my friends and gym cohorts who are noticing the positive changes in my body and life."  -Chris C, www.warcrywod.com
 " I've done a cleanse with Meredith's guidance and support and I felt fantastic! I learned more ways how to cook and take better care of myself. I developed even more skill sets to be an even better intuitive eater meaning I am better able to recognize when my body was craving food vs. water, what kind of food I need, and how much to eat. It is well worth the investment!"  -Kristin, Seattle, WA
 I AM READY TO REBOOT AND FEEL AMAZING! HOW DO I GET STARTED?
There are two options:  an individualized program or a group program, which meets several times a year.
Individualized program includes:
A 60-minute nutrition consultation (can be conducted in person or on the phone)
Protein powder and whole-foods supplements from Standard Process that synergistically work to help purify and rebuild all of the organs of elimination
Recipes to ensure you have many flavorful options during the program
A booklet with a journal and grocery shopping list
Daily emails that will guide you through the program (tell you how you should be feeling, provide tips and additional recipes)
Limited email support
*Double the program as an "Elimination Diet" to identify food sensitivities, which would include the above plus 2 additional 50- minute consulting sessions (can be conducted in person or on the phone)
Note: Insurance may cover consults
Group Program Includes:
 3 group meetings where you will have accountability and support from others going through the same process
Protein powder and 3 weeks worth of whole-foods supplements from Standard Process that synergistically work to help purify and rebuild all of the organs of elimination.
Assessment of your current toxicity level and re-assessment at the end of the program
Tons of information on toxins, digestion, the detoxification process and nutrition.
A packet of delicious and easy-to-prepare recipes
A purification booklet with a journal, grocery shopping list and tips
Handouts with tips for healthy cooking and food preparation
Additional guidance on how to pamper yourself to enhance the detoxification process (Yes! We encourage you to do things to increase pleasure! )
Membership to a private Facebook goup for questions, comments and support!
Daily emails that will provide additional tips, recipes and guidance (optional for $5)
NEXT GROUP PROGRAM TBD:  To get on the email list for notifications, fill out the form below, or sign up for "Mindful News & Tips" at the top of the page!
Held at my office building in the Capitol Hill neighborhood of Seattle. If you are unable to physically be present, we can conference you in–just ask!
 1st Meeting: Initial one-hour meeting:  We will assess toxicity levels, discuss WHY we are doing this, go over the nuts and bolts of the program, and get you set up for success for phase 1. You will have several days to grocery shop and prepare for the cleanse.
2nd Meeting: Second group meeting (1 hour):  We will discuss your progress and any questions/concerns you may have, as well set you up for success for phase 2 of the cleanse.
3rd Meeting: The third and final meeting (1 hour): We will set you up for success as you complete the program and discuss how to carry the habits you've developed with you.
If you find you want additional supplemental support or guidance after the cleanse, I offer a 50% discount for a client session if you book an appointment within a month of program completion! This would include a personalized approach to continue to optimize digestion, hormone balancing, blood sugar balancing or just to feel more energetic and focused and/or working with stress and emotional eating triggers. 

P.S. If you have a history of dieting/restricting and feel concerned about how a purification program can be part of your mindful eating and intuitive eating journey, please schedule a FREE 30-minute consult ~ I'd love to discuss it with you!